Deliverance
SCORE: 81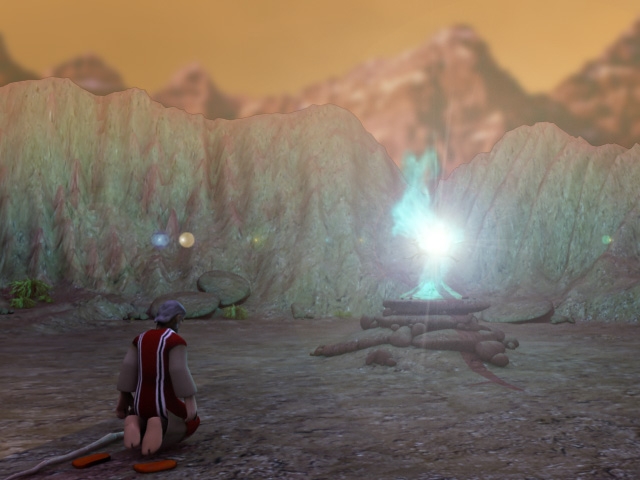 West Creek Studios (an independent Christian video game developer) surprised the gaming community with their release of Deliverance Moses in the Pharaoh's Courts on the Personal Computer (PC). In fact Family Friendly Gaming did its part of sharing the word about this game with the other Christian gaming media outlets. Players get to play as Moses during the time of Exodus for the Israelites. This is an action adventure fighting game with some light role playing game elements thrown in for good mix. Moses has been given quite a few arcade style attacks with his staff. A "Smart Mouse" control puts almost all of the games controls into one hand for the player.
Deliverance Moses in the Pharaoh's Courts has some awesome graphics, and also has some graphics that make the WMG cringe. Some of the walls in Egypt are spectacular, and really add to the realistic feeling of this game. The trees, ground, character, and animal models are definite areas that improvements are needed. There are images of violence as the player uses the staff to pummel the enemies until they vanish. There are images that promote a relationship with God. There is no gore that the WMG found in Deliverance Moses in the Pharaoh's Courts.
The WMG found the music to be pleasant. Due to the fighting there is quite a bit of whacking special effects sound in Deliverance Moses in the Pharaoh's Courts. It is important to Family Friendly Gaming how crisp, and clear sounds are; well West Creek Studios did a decent job of that as well. There are sounds that encourage a relationship with God.
Deliverance Moses in the Pharaoh's Courts has a very nice length to it, so most gamers will be kept busy for a month or two. Coins can be collected, but there is not a lot of replay value for most. Only one player can play this game at a time. This is certainly the kind of game to look at a purchase, especially if yous are into independent and/or Christian gaming.
The WMG had two major problems playing this game. The first was the game would lock up, and way too often for the WMG's taste. The game would then not work until the computer was rebooted. After awhile this got old. The second problem the WMG had with Deliverance Moses in the Pharaoh's Courts was figuring out what to do next. West Creek Studios has a forums where they offer help. There is also no real strategy needed in the fighting, mash down on one attack as fast as possible until yous win.
A game based on Exodus is actually a really good idea, and the WMG is glad it is on the market. Maybe the gameplay issues have more to do with the machine, than the game. Some more games from West Creek Studios would be very welcome, and is indeed needed. A very nice attempt on their first release out the gate.
- Working Man Gamer
Graphics: 81%
Sound: 86%
Replay/Extras: 80%
Gameplay: 67%
Family Friendly Factor: 91%
System: Personal Computer
Publisher: West Creek Studios
ESRB Rating: 'NR' for Not Rated
Want more info on this product, or the company that made this product?
Set web browser to:
Link

Got a question, comment, or a concern regarding this review?
Email them to:
WorkingManGamer@familyfriendlygaming.com