The Rising of the Shield Hero Season One Part Two
SCORE: 71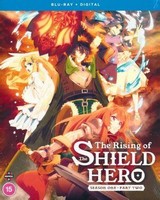 I am very thankful I had the money to purchase The Rising of the Shield Hero Season One Part Two on Blu-ray and DVD. The storyline in The Rising of the Shield Hero Season One Part Two takes quite a few turns. It starts out with the Shield Hero being hunted and ends with him being the only hero worth his salt in this fantasy world. We also find new mysteries as heroes from a different world attack. The Rising of the Shield Hero Season One Part Two leaves me with all kinds of questions.

The issues families can have with The Rising of the Shield Hero Season One Part Two are violence, blood, bad language, magic, enticement to lust, lack of attire, and more. We meet the Filolial Queen and she has a request of Naofumi. She also has a threat which is something I was not expecting. Filo grows and matures in ways I was not expecting in The Rising of the Shield Hero Season One Part Two as well. She and Raphtalia both are vying for their masters attention.

The three heroes church attacks the heroes in The Rising of the Shield Hero Season One Part Two and tried to kill them. Their pope is shown as very evil as he attacks the Devil of the Shield. SPOILER ALERT! The Shield Hero uses a blood art that almost kills him to kill the pope. It was really odd seeing a church being depicted as the bad guy in The Rising of the Shield Hero Season One Part Two. Especially after all of the good churches have done in our world.

It takes three hundred and twenty-five minutes to watch the twelve episodes on the The Rising of the Shield Hero Season One Part Two discs. There is also a three minute special feature included with The Rising of the Shield Hero Season One Part Two. A lot happens in these episodes though. We meet new and cool characters. The Shield Heroes good name is redeemed and his false accusers are exposed.

The Rising of the Shield Hero Season One Part Two contains some humor and plenty of wonderful voice acting. The animation in The Rising of the Shield Hero Season One Part Two looks good. I can really see the struggle in The Rising of the Shield Hero Season One Part Two to survive even if it costs you too much. That theme is found throughout The Rising of the Shield Hero Season One Part Two.
- Paul
Graphics: 66%
Sound: 69%
Replay/Extras: 68%
Gameplay: 85%
Family Friendly Factor: 67%

System: Blu-ray/DVD
Publisher: Funimation
Developer: Manga Entertainment
Rating: 'TV-14' - This program contains some material that many parents would find unsuitable for children under 14 years of age.

Want more info on this product, the company that made this product?
Set web browser to:
Link


Got a question, comment, or a concern regarding this review?
Email them to:
GameReviews@familyfriendlygaming.com

Do you appreciate Reviews like this one? Have you ever considered helping Family Friendly Gaming? For more information click here.