Super GOAL!
SCORE: 90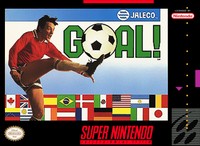 I am very thankful Family Friendly Gaming purchased Super GOAL! on the Super NES. This soccer video game looks good, sounds, good, and plays decently. There are twenty-four countries that can be played in Super GOAL!. There are also plenty of options that can be selected and changed in this game. We had a blast playing Super GOAL! on the SNES. Did you watch our video of this retro game?
I do have one minor quibble with Super GOAL! on the SNES. The character will kick whatever direction they are facing. This makes shooting at the goal very difficult. We had a hard time with it, and wound up kicking right past the goal instead of into the goal. We also can not see where we are passing too, which led to plenty of passes being intercepted. Finally we had issues with the goalie kicking right to the opposing team.
Super GOAL! on the SNES can be found for a very reasonable price. I wish Jaleco was still around making video games. They had some talent back in the 16-bit era. The soccer action is fast albeit a bit confusing. The defender can chase down the offensive player at any time. Sliding is an easy way to steal the ball. Penalties are very light in Super GOAL! on the SNES. This is a retro game to check out.
- Paul
Graphics: 90%
Sounds: 90%
Replay/Extras: 95%
Gameplay: 80%
Family Friendly Factor: 95%

System: Super NES
Publisher: Jaleco
Developer: Jaleco, TOSE
Rating: 'NR' for Not Rated

Want more info on this product, the company that made this product?
Set web browser to:
Link


Got a question, comment, or a concern regarding this review?
Email them to:
pbury@familyfriendlygaming.com

Do you appreciate Reviews like this one? Have you ever considered helping Family Friendly Gaming? For more information click here.