Super Bases Loaded
SCORE: 79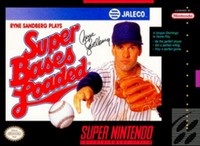 I am thankful Family Friendly Gaming purchased a copy of Super Bases Loaded on the Super NES for a review and video series. I was very curious to see what this retro baseball series was like. Graphically I am impressed with Super Bases Loaded. I love the rotations in the screens. The sounds are good as well. The team mascots are interesting. They are not the same as the MLB.
The biggest problem with Super Bases Loaded is the controls. The fielding is a pain, and batting is annoying. Batters must anticipate the pitch and swing a bit before the ball gets there to get the hit animation. What makes this bad is if the pitch is a ball. The computer in Super Bases Loaded is tough to beat. Super Bases Loaded is much more fun when two family members play it.
We have had multiple fun and competitive games in Super Bases Loaded. We have enjoyed this retro video game with some quirky controls. The presentation is good for the era, especially when a home run is hit. That is really cool. Trying to catch a ball in the outfield can be very challenging in Super Bases Loaded. I also ran into glitches where the game would not swap from infielder to outfielder.
- Paul
Graphics: 85%
Sound: 85%
Replay: 80%
Gameplay: 60%
Family Friendly Factor: 85%

System: Super NES
Publisher: Jaleco
Developer: Tose
Rating: 'NR' for Not Rated

Want more info on this product, the company that made this product?
Set web browser to:
Link


Got a question, comment, or a concern regarding this review?
Email them to:
pbury@familyfriendlygaming.com

Do you appreciate Reviews like this one? Have you ever considered helping Family Friendly Gaming? For more information click here.