RBI Baseball 2017
SCORE: 74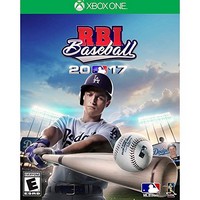 At some point Family Friendly Gaming expects lesser known games to improve. We liked what we saw in RBI Baseball 2016. So we expected improvements in RBI Baseball 2017. Sadly this arcade baseball video game let me down this year. We can play, manage, look at Rosters, Settings, and Extras. Under Play we have Exhibition, Season, Post Season, and Online. If the teams are different RBI Baseball 2017 does not show it.
The biggest frustration for me with RBI Baseball 2017 is the difficulty settings are about meaningless. I got stomped on the Easy mode. The computer controlled pitchers would move that ball so far out of range it would hit my batter or be five feet on the other side of the plate. I noticed the bat swinging through the ball and missing. Get struck out in that glitch and you will get angry. Plus I never got to take my base after getting hit.
RBI Baseball 2017 has some very fast games. Maybe because we can get put out so easily. I flew out, grounded out, and struck out on a routine basis while playing RBI Baseball 2017. In fact three up and three down is extremely common in RBI Baseball 2017. The best way to play this baseball video game is with another person. Expect a lot of complaining as the glitches make the games unfair.
The graphics are crisp and clean in RBI Baseball 2017. The music is neat to listen to. We can play a 162, 81, or 52 games season in RBI Baseball 2017. I wish there was a lower setting on the games like 26. Pitcher fatigue can be a real problem. Which is strange since they pitched so few pitches in the games I played. I mean three to six pitches in most innings.
This franchise has promise if the effort is put in. The dugouts are empty and that looks odd. The easy mode should not have all that ball motion. There are still few pitches, and base running is a mega pain. At least trying to send just one player. Stealing did not always work for me either. Families can have fun with RBI Baseball 2017 as long as they are not expecting MLB 17 The Show.
- Frank
Graphics: 75%
Sound: 75%
Replay/Extras: 80%
Gameplay: 60%
Family Friendly Factor: 80%

System: PS4/Xbox One(tested)
Publisher: Major League Baseball Advanced Media
Developer: Nighthawk Interactive
Rating: 'E' for Everyone SIX and OLDER ONLY

Want more info on this product, the company that made this product?
Set web browser to:
Link


Got a question, comment, or a concern regarding this review?
Email them to:
GameReviews@familyfriendlygaming.com

Do you appreciate Reviews like this one? Have you ever considered helping Family Friendly Gaming? For more information click here.