NHL 95
SCORE: 77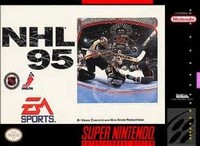 I am thankful Family Friendly Gaming purchased a copy of NHL 95 on the Super NES. Families can also purchase this game on the Genesis. We did a video capture of this game on our Youtube channel. I hope you enjoyed that game. We ran into control issues with NHL 95 sadly. There are a couple of options in NHL 95 in terms of what rules are applied. Winners had fun, and losers were frustrated with NHL 95.
NHL 95 looks decent for its era. The ice has a nice shine, and the town down view works for hockey. I could generally tell when one of my players was laid out and sliding on the ice. I liked being able to turn off the penalties in NHL 95 personally. The computer can be difficult to beat in NHL 95. A basic reading ability is need to learn about the teams and their star players.
The coolest thing in NHL 95 is being able to trade players. That is something that seems trivial now, but it was not back then. We are not that big into hockey here at Family Friendly Gaming like we are into football, baseball, and basketball. Still we found some enjoyment out of this game we purchased for $4.95. Nice low price for a sports game if you know what I mean.
- Paul
Graphics: 90%
Sounds: 80%
Replay/Extras: 80%
Gameplay: 65%
Family Friendly Factor: 70%

System: Genesis/SNES(tested)
Publisher: EA Sports
Developer: Visual Concepts, High Score Productions
Rating: 'NR' for Not Rated

Want more info on this product, the company that made this product?
Set web browser to:
Link


Got a question, comment, or a concern regarding this review?
Email them to:
pbury@familyfriendlygaming.com

Do you appreciate Reviews like this one? Have you ever considered helping Family Friendly Gaming? For more information click here.