GOAL!
SCORE: 70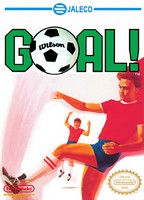 Did you enjoy the game of GOAL! we played on the NES? If you missed it, you can click here to see it. We had fun playing this retro soccer game. We did come across a few issues with GOAL! while we played it. The glitches both audio and visual were disturbing. Sometimes we could slide and sometimes we could not slide. GOAL! is a very finicky sports game.

The good news is GOAL! is a fun soccer game where families can have competitive matches. There are sixteen countries families can play in this retro sports game. Refs will magically appear. I love the scene shown after a goal is scored. If you score on yourself there is no such cut scene. This is an 8-bit video game so there are a lot of players on the field for such an old game. GOAL! looks okay for a game of its era.

If you like to play older sports games then you should look at GOAL! on the 8-bit NES. Family Friendly Gaming was able to purchase this for a decent price used. We only got a cartridge, but that is all we needed. We also had to clean the cartridge multiple times to get it to work. I like the music, and goal celebrations. If you are not sure then please check out our video of this retro game.
- Paul
Graphics: 80%
Sounds: 60%
Replay/Extras: 80%
Gameplay: 60%
Family Friendly Factor: 70%

System: NES
Publisher: Jaleco
Developer: Tose
Rating: 'NR' for Not Rated

Want more info on this product, the company that made this product?
Set web browser to:
Link


Got a question, comment, or a concern regarding this review?
Email them to:
pbury@familyfriendlygaming.com

Do you appreciate Reviews like this one? Have you ever considered helping Family Friendly Gaming? For more information click here.