Yo Noid
SCORE: 65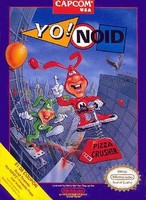 We recently did a top ten video on product placements. Yo! Noid was on the list. I thought it might be fun to play this retro game for a review. Yo! Noid is one of the most annoyingly difficult games I have played. There are one hit kills. Any little thing in this game will kill you and you have to replay the level. You also have to memorize where all the enemies come out from or you will get hit. The flashes in the graphics can lead to headaches.
I like the music and the mini games in Yo! Noid. The main Dominos based character has a yo-yo that he attacks with. Yo! Noid has some cartoon violence in it. I ran into some glitches while I played Yo! Noid. The game locked up at some rather inconvenient times. Players can continue their game three times and earn extra lives when enough points are earned.
If you like a challenge then you need to look into Yo! Noid. This game will take hours of practice to get through a couple of levels. I almost gave after dying so many times in the first level. I did eventually get good at it, and then learned the pizza mini game. Yo! Noid is worth ten dollars in my opinion.
- Paul
Graphics: 65%
Sound: 80%
Replay: 60%
Gameplay: 50%
Family Friendly Factor: 70%

System: Nintendo Entertainment System
Publisher: Capcom
Developer: Now Production
Rating: 'NR' for Not Rated

Want more info on this product, the company that made this product?
Set web browser to:
Link


Got a question, comment, or a concern regarding this review?
Email them to:
pbury@familyfriendlygaming.com

Do you appreciate Reviews like this one? Have you ever considered helping Family Friendly Gaming? For more information click here.