Wrestle War
SCORE: 66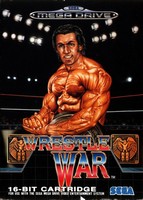 Wrestle War is a wrestling game on the Sega Genesis. It is also on the Dreamcast as part of a compilation. We played it on the Dreamcast in Sega Smash Pack Volume 1. It can be found on the Genesis so it is retro either way. The wrestlers are much larger in Wrestle War than I expected. The controls and camera swaps are not that great in Wrestle War. Which is a real shame. There are eight wrestlers to play with in Wrestle War.
We had fun playing Wrestle War here at Family Friendly Gaming. Bear in mind there is a lack of attire in Wrestle War. There is also violence in Wrestle War. The voices and music are pretty good in Wrestle War. Especially when we compare them to other 16-bit video games. I love the one, two, and three counts in Wrestle War.
Wrestle War allows for a one player or a two player experience. Family members can work together to try and learn the controls in Wrestle War. I actually recommend that, especially when there is no manual included with many retro games. If you like wrestling games and can handle some of the issues then you should enjoy Wrestle War.
- Paul
Graphics: 70%
Sound: 80%
Replay: 70%
Gameplay: 50%
Family Friendly Factor: 60%

System: Genesis/Dreamcast
Publisher: Sega
Developer: Sega
Rating: 'NR' for Not Rated

Want more info on this product, the company that made this product?
Set web browser to:
Link


Got a question, comment, or a concern regarding this review?
Email them to:
pbury@familyfriendlygaming.com