WWE 2K17
SCORE: 55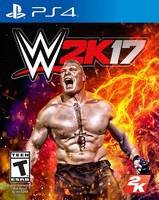 I am pleased to see Family Friendly Gaming purchased a copy of WWE 2K17 on the PS4 on Black Friday 2016. The game was under half the normal price. The PR and Marketing failure was expected for this game. WWE 2K17 takes out the story mode and lets players purchase additional characters. This is done with in game currency that is earned by having good singles matches. Why not have everyone unlocked from the beginning?
WWE 2K17 contains violence, blood, bad language, enticement to lust, lack of attire, sexual dances, offensive images, glitches, long loading times, huge installation, massive updates, offensive music, and more. Money in the bank has been changed. A player must tap a button when the ball can go into the hole multiple times. That means another player and come over and steal the win.
There are a lot of different matches in WWE 2K17. There are also a lot of wrestlers. Gamers have to spend a nasty amount of hours to unlock all of them though. It is an improvement over having to play the story and complete all of the insane moves at the right times to unlock certain characters. Baby steps from 2K is better than no steps in the right direction.
The targeting and reversals are broken. The submit has changed. Now we play tag or keep-away depending on whether you are trying to submit or get free. I disagree with the points system in WWE 2K17 for what makes a good match. I wish WWE 2K17 was more like real wrestling. Give us the storyline, timing, and match ending. Then we have to provide what we are instructed to.
The announcer lines get repetitive. Thankfully we can turn off the offensive music. Plenty of online modes are available in WWE 2K17 if you have the Internet bandwidth for that. I found that WWE 2K17 can lead to real world anger, real world arguments, and real world bad blood. That could probably be said for any competitive video game on the market. Take it with a grain of salt.
- Frank
Graphics: 40%
Sounds: 40%
Replay/Extras: 85%
Gameplay: 65%
Family Friendly Factor: 45%

System: Xbox One/Xbox 360/PS3/PS4(tested)
Publisher: 2K Games
Developer: Yukes, Visual Concepts
Rating: 'T' - THIRTEEN and OLDER ONLY {Blood, Language, Suggestive Themes, Violence}

Want more info on this product, the company that made this product?
Set web browser to:
Link


Got a question, comment, or a concern regarding this review?
Email them to:
GameReviews@familyfriendlygaming.com