Trackmania Turbo
SCORE: 84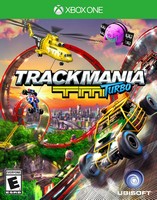 I am very thankful that Family Friendly Gaming was able to purchase Trackmania Turbo on the Xbox One. I like this racing game even though I am not very good at it. I can usually get a bronze medal in the courses in Trackmania Turbo. Others had to get the silver and gold medals. In fact that is one of the short comings in Trackmania Turbo. If you can not get silver in every race then you can not unlock certain levels. The same goes for gold.
The loading times are long in Trackmania Turbo. The game looks really good, and I adore the track creation. The track creation mode is a bit limited. I wanted to create a certain kind of race track in Trackmania Turbo, but the tools are too limited to do so. The tracks that come with Trackmania Turbo are crazy. Did you see the Family Friendly Gaming video of Trackmania Turbo?
Some of the races in Trackmania Turbo are really short. Like they can be beaten in under thirty seconds. I enjoyed some of the music in Trackmania Turbo. It it upbeat, and adrenaline pumping. Which is not always needed in Trackmania Turbo. I like how Trackmania Turbo has signs telling us where to drift and where there are U-turns. Making it happen are high speeds is not as easy as it sounds.
The controls on dirt and grass in Trackmania Turbo are horrible. The concrete controls are generally good, unless players are put in the first person perspective. I am not a fan of the first person perspective with racing cars. It can be difficult to tell where the wheels are when our camera is on the front of the vehicle. I would not mind seeing from inside the vehicle in those areas.
Trackmania Turbo has its flaws. The crazy tracks and insane crashes are part of the game. Trackmania Turbo taught me to be reckless. Trackmania Turbo also taught me to do things faster. Which led to many mistakes, and a lot of real world frustration. Two drivers controlling one car cooperatively was actually a neat and cool mode that families can get into.
- Frank
Graphics: 90%
Sounds: 80%
Replay/Extras: 90%
Gameplay: 80%
Family Friendly Factor: 80%

System: PC/PS4/Xbox One(tested)
Publisher: Ubisoft
Developer: Nadeo
Rating: 'E' - Everyone SIX and OLDER ONLY

Want more info on this product, the company that made this product?
Set web browser to:
Link


Got a question, comment, or a concern regarding this review?
Email them to:
GameReviews@familyfriendlygaming.com