The Addams Family
SCORE: 60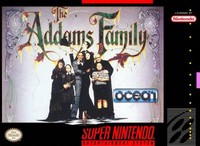 The Addams Family is an interesting movie based video game. The squat characters fit the time period for video games. The horror element to The Addams Family is evident right from the start. The Super NES, and Genesis video game does match the franchise. Which has been one of my personal least favorites for some time now.
The Addams Family comes from an era where video games did not give much direction and were much more difficult. In fact The Addams Family can be extremely frustrating. If you watched our little video capture of The Addams Family you can see what I mean. Exact timing is required to get through areas. Players can take very few hits to progress. If you like challenging games then The Addams Family is right up your alley.
The Addams Family will tell you what to do. The problem is figuring out how to get there. Players need to be curious and want to explore the scary areas in The Addams Family. The music is a decent rendition of the songs from the movie and television show. Once I heard them I remembered this franchise and my personal disinterest in it.
- Paul
Graphics: 50%
Sound: 70%
Replay: 70%
Gameplay: 50%
Family Friendly Factor: 60%

System: Genesis/Super NES
Publisher: Ocean
Developer: Ocean
Rating: 'NR' - Not Rated

Want more info on this product, the company that made this product?
Set web browser to:
Link


Got a question, comment, or a concern regarding this review?
Email them to:
pbury@familyfriendlygaming.com