Takin it to the Hoop
SCORE: 66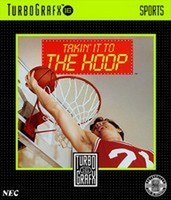 Takin it to the Hoop is a basketball video game on the Turbografx-16 for one or two family members. A special adapter is needed for two family members to play this game since the Turbografx-16 system only had one controller port. Families can then play in a tournament, league, or exhibition. There are eight teams to pick from in Takin it to the Hoop.
The controls in Takin it to the Hoop take some getting used to. We also ran into controller glitches while playing this home console basketball game. At least I hope it was controller glitches since we do not have additional parts to swap out and determine if it was the game or the controllers. We did experience similar controller glitches in other games which makes us think it was the controllers.
Graphically Takin it to the Hoop did not impress me. The music is also sub standard for the era. Slam dunks look good, and are about the best way to score in Takin it to the Hoop. Free throws are easy thankfully. Too many basketball games have nearly impossible free throws. I would like to see this franchise return at some future date.
- Frank
Graphics: 60%
Sound: 60%
Replay: 70%
Gameplay: 70%
Family Friendly Factor: 70%

System: Turbografx-16
Publisher: NEC
Developer: Alcom
Rating: 'NR' - Not Rated

Want more info on this product, the company that made this product?
Set web browser to:
Link


Got a question, comment, or a concern regarding this review?
Email them to:
GameReviews@familyfriendlygaming.com