Super Hang-On
SCORE: 74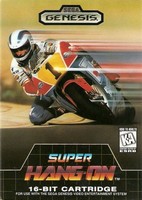 Super Hang-On is a fun racing video game on the Genesis. We take a motorcycle and race through some Outrun like stages. In fact Super Hang-On could be called Outrun on a motorcycle. Certain things are required in Super Hang-On. Like understanding when you need to shift gears. It took me a bit to figure that out. You can see that in the video I did of Super Hang-On on the Genesis.
I like the graphics in Super Hang-On. Especially the different landscapes and colors. The music in Super Hang-On is neat to hear. I liked listening to it while playing this racing game. That reminds me - avoid going off the road in Super Hang-On. Why? There are objects there that will crash your poor rider. Super Hang-On is a game that family members can learn. It does get frustrating especially at high speeds.
Players must make the next check point by a certain time. If you miss it, then it is game over. The longer you play Super Hang-On the harder it gets. I did have fun playing Super Hang-On. I wish more games were like this. I would welcome a return of this franchise. Until then retro gamers can enjoy Super Hang-On on the Genesis.
- Frank
Graphics: 80%
Sound: 80%
Replay: 70%
Gameplay: 70%
Family Friendly Factor: 70%

System: Genesis
Publisher: Sega
Developer: Sega
Rating: 'K-A' - Kids to Adults

Want more info on this product, the company that made this product?
Set web browser to:
Link


Got a question, comment, or a concern regarding this review?
Email them to:
pbury@familyfriendlygaming.com