Recore
SCORE: 56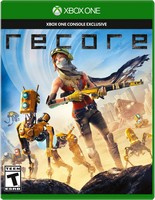 After the PR and Marketing failure from Microsoft Game Studios I put Recore on our purchase listing. I was shocked to hear it sold horribly and dropped in price drastically. So we spent the money on purchasing this Xbox One exclusive. The E3 trailers and information had not impressed me much. I was actually pleasantly surprised with Recore at first.
The story telling and storyline in Recore are what saves this game from being an abysmal failure. It is one of the few reasons anyone would suffer through playing this third person shooter. The loading times are insanely long in Recore. The game play is repetitive. Recore puts three robotic enemies to fight, and after we defeat them we get three more of the same type. This repeats until you think you are going to go mad. Once I got different colors to my gun it got even worse.
It is really easy to die in Recore. Once we clear an area, we can leave, come back, and fight them again. This is not true inside dungeons all of the time. Collecting resources and blueprints are important. That is how we upgrade our robotic companions. Bosses are annoyingly difficult and there is one way to defeat them. Remove their cores in the few seconds of opportunity as long as their health is low enough and all other enemies have been defeated in the room.
I was shocked to find glitches in Recore. Things like the beacons of where to go next vanished. I had to leave the area and come back to get them to reset. Enemies would glitch into walls. They could not be hit by gunfire since the wall protected them. Too many of the areas in Recore are recycled and reused. Destabilization is a pain. Playing Recore was like trudging through a swamp. It was slow, tedious, boring, and filled with dangers.
The storyline and heart are what helps Recore. In my opinion this game is worth fifteen dollars brand new. That is only because of the character and storyline. Plus there is a mystery to find out what happened in Far Eden. Is it actually worth the time and heartache to go through the game play? That is your choice to make.
- Paul
Graphics: 50%
Sound: 70%
Replay: 50%
Gameplay: 50%
Family Friendly Factor: 60%

System: Xbox One
Publisher: Microsoft Game Studios
Developer: Armature Studio
Rating: 'T' - THIRTEEN and OLDER ONLY {Violence}

Want more info on this product, the company that made this product?
Set web browser to:
Link


Got a question, comment, or a concern regarding this review?
Email them to:
pbury@familyfriendlygaming.com