Pink Goes to Hollywood
SCORE: 70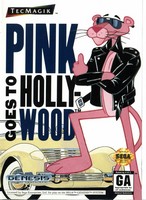 Pink Goes to Hollywood is a character themed game that does some things right and does some things wrong. This home console SNES and Genesis title has a great character, with neat animations, and cool music. Sadly the lack of direction, and confusing level design can lead to frustration. This was back in the era where companies tried different things, and hoped the strength of the license would carry them through.
Tere is some action adventure cartoon violence in Pink Goes to Hollywood. There are some horror monsters like ghosts found in this platformer as well. I love the different animations the Pink Panther shows in Pink Goes to Hollywood. I got some laughs out of this little game as I explored areas and tried to figure out how to complete a level. We joke about modern games and tutorials. Thing is games like Pink Goes to Hollywood show us no tutorial can be a really bad thing.
I would like to see new Pink Panther video games in the future personally. Pink Goes to Hollywood is one of those home console video games that could be redone, improved, and remastered. Families can get into Pink Goes to Hollywood on the Super NES and Genesis.
- Paul
Graphics: 70%
Sounds: 80%
Replay/Extras: 70%
Gameplay: 60%
Family Friendly Factor: 70%

System: Super NES/Genesis
Publisher: TecMagik Entertainment
Developer: Manley & Associates
Rating: 'GA' - General Audiences

Want more info on this product, the company that made this product?
Set web browser to:
Link


Got a question, comment, or a concern regarding this review?
Email them to:
pbury@familyfriendlygaming.com