PES 2017
SCORE: 80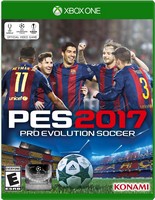 For the second year in a row Konami's PR and Marketing has failed Family Friendly Gaming. Their loss. We have played both the Fifa game this year and now the PES game. We are ready to declare PES 2017 the winner of the soccer wars this year. We like PES 2017 much more than we like Fifa 17. The game plays so much better for PES. It feels more like real soccer.
The highly divisive and extremely controversial religious word evolution is still being used in this franchise. Konami obviously does not care about who they offend. They are losing sales from it, but are too arrogant to listen. The music can be a pain to turn off in PES 2017. The music is better in PES 2017. The graphics are better in PES 2017. There are more options in PES 2017. There are more things to do in PES 2017.
I like the career mode in PES 2017 better than Fifa 17. First off we can design our own character and we are given tons of options. I like becoming a legend because it feels different than playing a game. We are also not lulled to sleep with all kinds of offensive cut scenes in PES 2017. There are plenty of lame online game play modes in PES 2017. This soccer game bugs us to connect and agree to their radical and extremely offensive terms.
The announcers in PES 2017 are good. There are even some classic teams in PES 2017. I wish PES 2017 had the American teams and the American leagues in it. There are others like UEFA Champions League, UEFA Europa League, AFC Champions League, and more in PES 2017. There are enough teams in PES 2017 to keep most families busy for a few months.
If I were to put a price on PES 2017, I would say twenty to twenty-five brand new. Family Friendly Gaming purchased a copy of PES 2017 on the Xbox One for a bit more than that. I am thankful Family Friendly Gaming stepped up to the plate after the failures of Konami. I hope this franchise continues to improve as the years go on. A name change would do the most good.
- Paul
Graphics: 80%
Sound: 80%
Replay/Extras: 90%
Gameplay: 70%
Family Friendly Factor: 80%

System: PC/PS3/PS4/Xbox 360/Xbox One(tested)
Publisher: Konami
Developer: Konami
Rating: 'E' - Everyone SIX and OLDER ONLY

Want more info on this product, the company that made this product?
Set web browser to:
Link


Got a question, comment, or a concern regarding this review?
Email them to:
pbury@familyfriendlygaming.com