Outrun 2019
SCORE: 84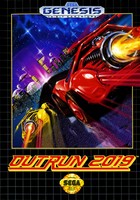 I am very thankful that Family Friendly Gaming purchased a copy of Outrun 2019 on the Sega Genesis. This retro game takes the Outrun model, and tries to envision what futuristic driving would be like. As we are a few years from 2019 (writing this review in 2016), it is interesting to see what the designers thought cars would look like. Outrun 2019 teaches us to avoid hitting other cars on the road.
The music in Outrun 2019 is fantastic. I love it. I really got into it while I was playing this cross country road trip experience. The graphics for Outrun 2019 were good for the day. In fact Outrun 2019 looks better than many current indie video games. Isn't it sad that a 16-bit video game looks better than many currently created video games? Signs tell us where the road splits, and when turns are coming.
Outrun 2019 is not for everyone though. This home console racing video game requires fast reflexes. Also some wisdom in when to use the gas and when to let off a little. Still I had fun Outrun 2019 even though I am not the best at these kinds of video games. Outrun 2019 reminds me of the Outrun arcade game and how cool that experience was. I want to see more games in this franchise.
- Paul
Graphics: 90%
Sounds: 90%
Replay/Extras: 80%
Gameplay: 80%
Family Friendly Factor: 80%

System: Genesis
Publisher: Sega
Developer: SIMS Co, Ltd
Rating: 'NR' - Not Rated

Want more info on this product, the company that made this product?
Set web browser to:
Link


Got a question, comment, or a concern regarding this review?
Email them to:
pbury@familyfriendlygaming.com