Nascar Heat Evolution
SCORE: 65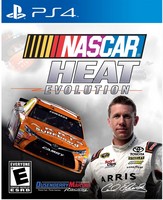 I am very thankful that Family Friendly Gaming purchased a copy of Nascar Heat Evolution on the Playstation 4. This racing game is a step backwards from previous Nascar video games. The merry-go-round of companies publishing and developing Nascar video games has really hurt this franchise. Their PR and Marketing are not trained in replying to emails or voice mails. Let alone how to answer a phone call.
Country music welcomes us to this scaled down Nascar video game. The modes in Nascar Heat Evolution are Race, Challenges, Champion, Career, Multiplayer, and Option. Who you race with in Nascar Heat Evolution is very important. Some drivers and cars can only reach certain levels. Others can do much better.
Accidents are a real part of Nascar Heat Evolution. The physics in this game are a bit questionable though. Nascar Heat Evolution loves to have drivers spin out. Many of them can quickly recover and keep going. I would get slightly nudged by another driver or the wall and lose all kinds of speed. Other racers I could blow by everybody without any trouble.
There is no local multiplayer in Nascar Heat Evolution. Another missing mode from previous versions. The crew chief does not fuss at you for going the wrong direction and causing massive accidents. There are two kinds of wrecks in Nascar Heat Evolution. There is the spin out, and the airborne. Hitting another car head on will send you up into the air. There is an invisible wall stopping you from going into the stands.
The screen cuts off on some television screens. I could not find an option in this racing game to fix it. Expect lots of smoke with the spin outs. There are not a lot of tracks, and not a lot of drivers. The graphics are downgraded and so was the music. There are less options in this racing game too. Nascar Heat Evolution lets families choose between racing and simulation.
The good news is Nascar Heat Evolution is generally easy to play. Newcomers can come into Nascar Heat Evolution and race right away. You will need to skip things like practice sessions.
- Frank
Graphics: 65%
Sound: 70%
Replay/Extras: 60%
Gameplay: 60%
Family Friendly Factor: 70%

System: PC/PS4/Xbox One
Publisher: Dusenberry Martin Racing
Developer: Monster Games
Rating: 'E' for Everyone SIX and OLDER ONLY

Want more info on this product, the company that made this product?
Set web browser to:
Link


Got a question, comment, or a concern regarding this review?
Email them to:
GameReviews@familyfriendlygaming.com

Do you appreciate Reviews like this one? Have you ever considered helping Family Friendly Gaming? For more information click here.