NHL 17
SCORE: 68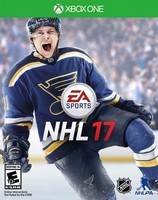 Family Friendly Gaming purchased a copy of NHL 17 on the Xbox One after the failures of the PR and Marketing firm of the company that made this hockey video game. EA Sports is showing why a monopoly of one company making a certain kind of a sports game is a bad thing. The NHL franchise continues to flounder. No wonder it could be purchased for thirty dollars on Black Friday.
NHL 17 is way too online heavy. This hockey game contains Play Now, Customize, Online Versus, Online Shootout, Draft Champions (Online), Ultimate Team (Online), Hockey League (Online), Team Play, Franchise, Be A Pro Career, Season, Playoff, World Cup of Hockey 2016, Offline Shootout, and Practice Mode. Too much online. It would be great for local multiplayer in things like Draft Champions, and Ultimate Team. EA Canada does not provide for us.
The normal controls in NHL 17 stink. I had to set the controls to NHL 94 for NHL 17 to be playable. How messed up is that? The offensive music can be turned off. The announcers are good. There are plenty of adjustments that can be made in NHL 17. From the penalties to the speed of the players. Be careful with that though. You can make yourself ultra powerful in checking and get all kinds of goalie interference penalties. Plus the other team will start a fight when you rough up their goalie. A fight that can not be avoided and you will already be behind when you realize what is happening.
Certain settings like the penalties kept resetting after every game. This is really lame in my opinion. I should be able to set it once in World Cup of Hockey 2016 and it stays that way through the entire mode. It is really easy to initiate fights in NHL 17. I found a slider that would lower the amount of fights. NHL 17 needs some competition and soon. NHL 17 is worth ten dollars brand new.
- Frank
Graphics: 60%
Sound: 70%
Replay: 75%
Gameplay: 65%
Family Friendly Factor: 70%

System: PS4/Xbox One(tested)
Publisher: EA Sports
Developer: EA Canada
Rating: 'E10+' - Everyone TEN and OLDER ONLY {Mild Violence}

Want more info on this product, the company that made this product?
Set web browser to:
Link


Got a question, comment, or a concern regarding this review?
Email them to:
GameReviews@familyfriendlygaming.com