NFL Quarterback Club 96
SCORE: 80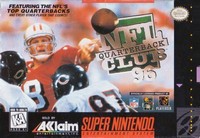 I enjoy playing retro sports games. I have also been fond of the NFL Quarterback Club franchise. NFL Quarterback Club 96 has some good things in it and some irritations. NFL Quarterback Club 96 looks good, sounds good, has great presentation, and the game is very playable. You need good timing on the passes in this football video game. You also need to press a lot of buttons on every single play. I could not find the way to get out of the hurry up offense without blowing a time out.
The lack of penalties felt weird. The one exception is there is a lot of pass interference calls. The computer can be tough to beat at times in NFL Quarterback Club 96. I prefer playing other people locally. There are plenty of good plays to call in NFL Quarterback Club 96. At times my running back could easily break tackles, and other times a little tap from another player took him down.
I felt the football vibes in NFL Quarterback Club 96. Teen Gamer however did not feel it while playing NFL Quarterback Club 96. For the era there are enough modes to keep families busy. I paid $3.95 for this sports game and feel like I got my money's worth. I am glad this franchise continued on after this game.
- Paul
Graphics: 85%
Sound: 80%
Replay: 90%
Gameplay: 70%
Family Friendly Factor: 75%

System: Genesis/Super NES(tested)
Publisher: Acclaim Entertainment
Developer: Iguana Entertainment
Rating: 'K-A' for Kids to Adults

Want more info on this product, the company that made this product?
Set web browser to:
Link


Got a question, comment, or a concern regarding this review?
Email them to:
pbury@familyfriendlygaming.com

Do you appreciate Reviews like this one? Have you ever considered helping Family Friendly Gaming? For more information click here.