NBA 2K17
SCORE: 75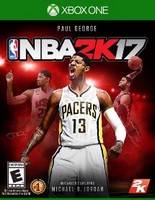 NBA 2K17 fell flat for me this year. Maybe it s all the hype and propaganda that surrounded it. Maybe it is the creepy eyes in too many of the players. Maybe it is the lack of any good, interesting or decent modes. NBA 2K17 brings back Team USA. Which makes me wonder why it was removed.
My Career in NBA 2K17 has a story if you want to work your way through. Not sure why we can't be a white person in that though. Racism against white people perhaps? The fifty plus gig installation took forever. Why can't we just play off the disc? The horrible music and barely dressed cheerleaders continue on this year. I never saw the guy come out and wipe the sweat off the floor after players fell down. 2K Sports is going for realism right?
Streaks in NBA 2K17 are horrible. Hot and cold streaks nearly ruin the game play experience. I learned to call time outs to reset the streaks. NBA 2K17 is way too online heavy for my tastes. I even had a problem starting the game without giving over an email address. What is that about? I have to provide private personal information just to play this game? Shame on you 2K Sports.
NBA 2K17 looks good and has plenty of teams for players to enjoy. Those creepy eyes still give me nightmares. The horrible music in NBA 2K17 can be turned off one song at a time. The menu screen volume of music can also be dropped to nearly nothing. The presentation is good, and I liked listening to the pre game show in NBA 2K17.
Playing on black top is an interesting section of NBA 2K17. I preferred to see the different teams and arenas in NBA 2K17 personally. I like the commentators in NBA 2K17. They had interesting things to say. I hope you watched the game Family Friendly Gaming recorded of NBA 2K17. It was an exciting game with all kinds of twists.
I am thankful Family Friendly Gaming rented a copy of NBA 2K17 on the Xbox One. The PR and Marketing for 2K Sports totally bricked it when it comes to Family Friendly Gaming.
- Frank
Graphics: 80%
Sound: 70%
Replay: 85%
Gameplay: 70%
Family Friendly Factor: 70%

System: PC/PS3/PS4/Xbox 360/Xbox One(tested)
Publisher: 2K Sports
Developer: Visual Concepts
Rating: 'E' - Everyone SIX and OLDER ONLY

Want more info on this product, the company that made this product?
Set web browser to:
Link


Got a question, comment, or a concern regarding this review?
Email them to:
GameReviews@familyfriendlygaming.com