Madden NFL 17
SCORE: 72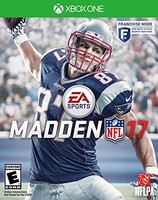 I am so thankful Family Friendly Gaming rented a copy of Madden NFL 17 on the Xbox One. The PR and Marketing contacts for EA were unable to respond to emails and the massive amount of coverage Family Friendly Gaming gave this mediocre sports video game. There have been plenty of changes this year. Most of them for the bad unfortunately.
There is a new way to kick, which is just a return of the old way of press A to start, press A for strength, and press A for accuracy. We have a new announcer team. Numerous tackles can be broken with fighting off the tackle. Kicks can be blocked. There are new trick plays, and defensive zones. There are plenty of interesting new plays for teams.
The presentation and graphical details are two of the things in Madden NFL 17 that improved. I am not a fan of the new announcers, and I hate the new kick mechanic. It is so easy to break tackles that what should have been a four yard gain turns into a seventy yard touchdown way too often. Injuries and turn overs have been cranked up as well.
The defensive line feels broken in Madden NFL 17 to me and my dad. He normally can blow by the defender and get to the quarterback in the last two Madden games. Now in Madden NFL 17 he can only do that a couple of times in a game. The offensive linemen have become very powerful. This is just a return to how older Madden video games did things.
I had to turn off the menu sounds in Madden NFL 17 since there are so many songs I can not stand. How does Madden NFL 17 get away with bad language in the lyrics and there is no ESRB description? I also turned off all the songs one at a time, and they came back the next time I entered the game. The announcers are bad enough, then we add in the bad music and the audio of Madden NFL 17 is a failure.
Madden NFL 17 is too online heavy again. The Rams intro game is interesting. The franchise mode is adequate. I like the vibrant colors. I just wish the game play of Madden NFL 17 was not broken so badly.
- Teen Gamer
Graphics: 90%
Sound: 50%
Replay/Extras: 80%
Gameplay: 60%
Family Friendly Factor: 80%

System: PS3/PS4/Xbox 360/Xbox One(tested)
Publisher: EA Sports
Developer: EA Tiburon
Rating: 'E' - Everyone SIX and OLDER ONLY

Want more info on this product, the company that made this product?
Set web browser to:
Link


Got a question, comment, or a concern regarding this review?
Email them to:
GameReviews@familyfriendlygaming.com