Just Sing
SCORE: 58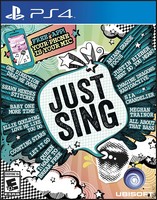 Family Friendly Gaming did a great thing by purchasing a physical copy of Just Sing on the Playstation 4 after the PR and Marketing for Ubisoft failed us. Sadly Ubisoft also failed the fans of karaoke games, and they failed with this video game. Ubisoft failed Just Sing really bad too. It has the feel of the Just Dance games except we sing. Just Sing lets families download a free app and sing through their mobile devices and/or through an USB microphone.
Only two family members can use the USB microphones since there are only two slots on the Playstation 4. Why not use your mobile device? Just Sing is glitchy. It will drop the connection in the middle of a song. There is nothing worse than singing and realizing that the game lost your voice and locked up your device.
Just Sing has all kinds of different cameras, from the mobile devices to the Playstation Eye. Different people will appear on screen, or more than one person while we were singing in Just Sing. There are plenty of songs in Just Sing (forty-five, with U-Play and DLC additional songs). There are some cool effects that can be added in case your family wants to make their own music videos. There are a wide array of different songs in Just Sing. I even caught a few with Hallelujah in them.
The graphics in Just Sing are okay at best. The accuracy of the grading in Just Sing is all over the board. At times it would work for one player and miss for another player. Then the next game play session it would reverse that glitch. Just Sing is a frustrating game if you are competing with one another. Whether it is in Party or Battle modes. Even when I won I felt no bragging rights because I knew Just Sing glitched on other family members.
If you have two USB microphones then your family can enjoy some glitchy karaoke in Just Sing. I would price Just Sing at five dollars brand new. There are too many problems, disconnections, and poor accuracy to recommend Just Sing to families at this time. Which is a real shame.
- Yolanda
Graphics: 60%
Sound: 60%
Replay/Extras: 90%
Gameplay: 20%
Family Friendly Factor: 60%

System: Xbox One/PS4(tested)
Publisher: Ubisoft
Developer: Ubisoft
Rating: 'E10+' - Everyone TEN and OLDER ONLY {Mild Lyrics}

Want more info on this product, the company that made this product?
Set web browser to:
Link


Got a question, comment, or a concern regarding this review?
Email them to:
craftiemom@familyfriendlygaming.com