Joe Montana's Football
SCORE: 74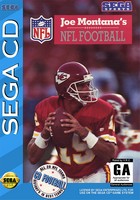 We continue to explore a variety of retro games here at Family Friendly Gaming. Joe Montana's Football on the Sega CD impressed me personally with its visuals, and Joe Montana's advice. The 3D visuals and ability to see down the field is fantastic in Joe Montana's Football. This is a bit better than the Genesis versions of this franchise, however expect a lot of turnovers in this game. For some reason receivers would stop running their routes and watch the defender intercept the ball at times.
Joe Montana's Football lets us play exhibition, season, commentary on or off, and three difficulty settings. There are ten well known and good teams from the past plus the twenty-eight NFL teams at the time. Plays can be reversed which is viewable by the second player. One or two family members can enjoy Joe Montana's Football at the same time.
The commentary comes after the play finishes. The music is good. The graphics are better than the Genesis, but confusing all the same. What is worse is trying to figure out who got a fumble recovery or if it was intercepted. I like the Ask Joe videos. I hate having to swap defensive players on every play.
- Paul
Graphics: 80%
Sound: 80%
Replay: 75%
Gameplay: 55%
Family Friendly Factor: 80%

System: Sega CD
Publisher: Sega
Developer: Sega
Rating: 'GA' - General Audiences

Want more info on this product, the company that made this product?
Set web browser to:
Link


Got a question, comment, or a concern regarding this review?
Email them to:
pbury@familyfriendlygaming.com