Forza Horizon 3
SCORE: 80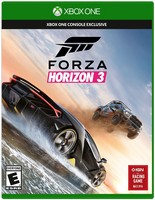 Forza Horizon 3 could have competed for a spot in the Christmas Buying Guide 2016. Unfortunately the PR and Marketing for Microsoft failed Family Friendly Gaming. Forza Horizon 3 can compete next year. This open world racing game has done many things we asked for too. It has lessened the offensive content and become more family friendly. A great thing to see in this franchise. Forza Horizon 3 realizes it does not need enticement to lust to succeed.
The graphics in Forza Horizon 3 are amazing. We do have to crash through fences and other objects in certain races. The map in Forza Horizon 3 is huge, and there is all kinds of diversity to the landscape. I noticed a real focus on water in this game. There are plenty of beach areas, rivers, and small lakes in Forza Horizon 3.
The music is received by signing contracts. Thankfully the offensive music can be turned off. For me this is the best way to play Forza Horizon 3. I care more about finding the signs, barns, and PR stunts. We build up the festival locations in Forza Horizon 3. We also earn fans based on how well we do in a variety of races. Expect to change cars early and often in Forza Horizon 3.
Forza Horizon 3 misses a real opportunity in one important missing feature. There is no local multiplayer. There is an online local multiplayer. So why can't we have an offline version of that? Like I said a missed opportunity. Families can purchase up to 350 cars in Forza Horizon 3. I am not sure how much DLC costs in terms of other cars. Forza Horizon 3 takes place in Australia so we drive on the left side of the road.
Forza Horizon 3 has multiple difficulty settings making it approachable by families of all skill sets. The loading times can be long in Forza Horizon 3. It has to load a lot of content. As long as you enjoy racing, you should enjoy Forza Horizon 3 on the PC and Xbox One.
- Frank
Graphics: 80%
Sound: 75%
Replay/Extras: 90%
Gameplay: 80%
Family Friendly Factor: 75%

System: PC/Xbox One(tested)
Publisher: Microsoft Game Studios
Developer: Turn 10 Studios
Rating: 'E' - Everyone SIX and OLDER ONLY {Mild Lyrics, Mild Violence}

Want more info on this product, the company that made this product?
Set web browser to:
Link


Got a question, comment, or a concern regarding this review?
Email them to:
GameReviews@familyfriendlygaming.com