Final Lap Twin
SCORE: 74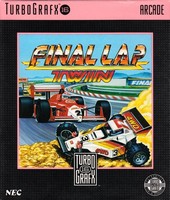 Final Lap Twin is a sixteen bit racing video game done in the Pole Position style. Final Lap Twin looks great compared to Pole Position. Final Lap Twin does not look so good going up against other 16-bit video games like Outrun. I like the variety of options and tracks in Final Lap Twin. The graphics look good for this kind of a video game. Again it could look better.
The biggest problem with Final Lap Twin is the game play. We get signs to tell us a right or left turn is coming up. Trying to figure out how long the turn is can be a problem. The same goes for finding the right speed through those turns. I do like the split screen concept in Final Lap Twin. I wish the single player would have one screen though. The lack of a full screen for the single player kills the concept of a larger screen.
The music in Final Lap Twin is nice. I enjoyed listening to it while trying to get in first place. I wish Final Lap Twin let me start in a higher position than last. Other racing games have improved upon that concept. Which makes it strange to go back and notice innovations that are missing. Final Lap Twin can be found used for under fifteen dollars.
- Frank
Graphics: 70%
Sounds: 80%
Replay/Extras: 80%
Gameplay: 70%
Family Friendly Factor: 70%

System: Turbografx-16
Publisher: NEC
Developer: Namco
Rating: 'NR' - Not Rated

Want more info on this product, the company that made this product?
Set web browser to:
Link


Got a question, comment, or a concern regarding this review?
Email them to:
GameReviews@familyfriendlygaming.com