World Series Baseball 95
SCORE: 73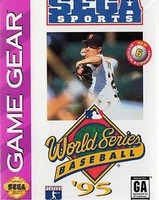 I was so hoping World Series Baseball 95 on the Game Gear was going to hit a home run. I give Sega credit, they crammed a lot of content into the cartridge for World Series Baseball 95. Hand held sports games have rarely been much good. The problem with World Series Baseball 95 is the graphics on this tiny screen. It is so hard to see the ball, and react to it in time. I would swing anticipating the ball coming over the plate, only to see it curve way outside at the last second.
World Series Baseball 95 has wonderful sound bytes, music, and a voice. For an older hand held video game World Series Baseball 95 actually felt like baseball. Just not baseball that is open to casual gamers. I like being able to change how many innings are played in a game. That is fantastic for a hand held. There are plenty of modes for a retro game with Exhibit, Vs, Pennant, Continue Pennant, Team Edit, and Players Data.
Families can purchase a used copy of World Series Baseball 95 really cheap. Like for a few dollars.
- Paul
Graphics: 50%
Sound: 90%
Replay/Extras: 90%
Gameplay: 60%
Family Friendly Factor: 75%

System: Game Gear
Publisher: Sega
Developer: Sega
Rating: 'KA' - Kids to Adults

Want more info on this product, the company that made this product?
Set web browser to:
Link


Got a question, comment, or a concern regarding this review?
Email them to:
pbury@familyfriendlygaming.com