WWE 2K16
SCORE: 54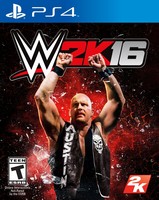 The 2K Showcase in WWE 2K16 is the career of Stone Cold Steve Austin. That means attacks on Christians, beer in excess, middle finger in excess, bad attitude, profanity, selfishness, hatred, and more. Playing that 2K Showcase is the only way to unlock certain characters in WWE 2K16.
I really like the roster in WWE 2K16. We are given characters from certain years. So Sting from more than one year. We also get Ravishing Rick Rude, and other professional wrestlers who are currently dead. If you ever wanted to compete with them, then WWE 2K16 gives you that opportunity. Plus you can take one of the older ones and face off against Daniel Bryan for example.
In many ways WWE 2K16 is a lot like WWE 2K15. I am pleased to see the run-ins allowed on the entrances. It pays to be player two in WWE 2K16. There are still odd things missing in WWE 2K16, and plenty of graphical glitches. Why can't we leave via the cage door in a cage match? Ten or twenty man royal rumbles are nice addition in WWE 2K16 in my opinion. Yes the thirty man is still there. I wish there was a way to increase health in a Royal Rumble by resting.
The loading times are long in WWE 2K16. Enticement to lust, and offensive music are also issues families will have. That music can be turned off in the options thankfully. Television clips are shown in this home console wrestling game. I noticed some historical inaccuracies in WWE 2K16 on who was a good guy or a bad guy at the time.
The large roster is the main selling point for WWE 2K16. Having to go through Steve Austin's story can be such a chore. The annoying reversal system in present. It can be hard to string together many attacks thanks to it. Plenty of character customization for creative players. I value WWE 2K16 at ten dollars.
- Frank
Graphics: 40%
Sounds: 40%
Replay/Extras: 85%
Gameplay: 65%
Family Friendly Factor: 40%

System: Xbox One/Xbox 360/PS3/PS4(tested)
Publisher: 2K Games
Developer: Yukes, Visual Concepts
Rating: 'T' - Teen THIRTEEN and OLDER ONLY {Blood, Language, Suggestive Themes, Use of Alcohol, Violence}

Want more info on this product, the company that made this product?
Set web browser to:
Link


Got a question, comment, or a concern regarding this review?
Email them to:
GameReviews@familyfriendlygaming.com