WWE 2K15
SCORE: 56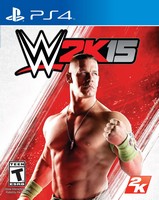 It is always smart to wait a year on video game franchises that are released on a yearly interval. This is exactly what Family Friendly Gaming did with WWE 2K15. We bought and played this wrestling based video game just before WWE 2K16 was released. Patience rewards us with more games for the same amount of money.
The loud obnoxious music was the first thing I noticed about WWE 2K15. I am not talking about the ring entrances either. I am talking about the menu screen music. Since this is a wrestling based video game, expect a lot of violence. There is also blood, enticement to lust, and bad language. The trainer in WWE 2K15 can be very discouraging in career mode. Even when we were doing really good with our created character.
There are a fair amount of characters in WWE 2K15. Some are unlockable, and others require additional payments to play. Why? Because these ultra rich companies feel they do not have enough money in their bank accounts. They have not fleeced gamers enough already in their opinions.
The 2K Showcase matches are interesting, and allow gamers to relive certain moments from the WWE. The glitches in WWE 2K15 are what really threw me for a loop. From graphical, to characters frozen and stuck inside the turn buckle and then hanging in the air outside the ring. It made finishing that Royal Rumble impossible. WWE 2K15 is a really glitchy game. How did this game make it to market?
After awhile in career mode the matches start to feel the same. The computer is really good at reversing moves (R2), and players have to get good to survive this game against them. Aggression levels increased after playing WWE 2K15. Patience levels also decreased.
- Frank
Graphics: 40%
Sound: 50%
Replay/Extras: 80%
Gameplay: 60%
Family Friendly Factor: 50%

System: Xbox One/Xbox 360/PS3/PS4(tested)
Publisher: 2K Sports
Developer: Yukes, Visual Concepts
Rating: 'T' -THIRTEEN and OLDER ONLY
{Alcohol Reference, Blood, Mild Language, Suggestive Themes, Use of Alcohol, Violence}

Want more info on this product, the company that made this product?
Set web browser to:
Link


Got a question, comment, or a concern regarding this review?
Email them to:
GameReviews@familyfriendlygaming.com