Victory Run
SCORE: 82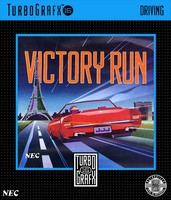 I am very thankful Family Friendly Gaming purchased a copy of Victory Run on the Turbografx-16. This home console racing game reminds me of Outrun. Which is a good thing. I love going up and down hills, and around corners in Victory Run. It can take some practice to get good at avoiding other vehicles in Victory Run.
Graphically Victory Run impressed me. Large vehicles, great transitions, and more are found in this home console video game. The music is also pleasant. I enjoyed listening to it while racing along the road. In fact Victory Run feels like taking a nice long road trip on the freeway. The biggest lesson I learned in Victory Run is to avoid hitting other cars. Victory Run also let me relive the days of having a stick shift.
Picking car parts before the first race is really cool in Victory Run. I would love to see sequels to Victory Run in the future. Or even an updated version of this home console racing title. I had a blast playing Victory Run on the Turbografx-16. So did everyone else who tried this game out. This is one of those retro gems families should look for.
- Paul
Graphics: 90%
Sounds: 85%
Replay/Extras: 75%
Gameplay: 80%
Family Friendly Factor: 80%

System: Turbografx-16
Publisher: Hudson Soft
Developer: Hudson Soft
Rating: 'NR' - Not Rated

Want more info on this product, the company that made this product?
Set web browser to:
Link


Got a question, comment, or a concern regarding this review?
Email them to:
pbury@familyfriendlygaming.com