Tournament Cyberball
SCORE: 56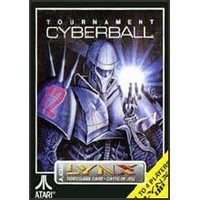 I remembered Cyberball from the Sega Genesis fondly. I was really excited to play it on the Atari Lynx. Tournament Cyberball is a poor excuse for a sports game on the hand held. Players can pick one of four rivals, and then one of six teams. That is the extent of the options in Tournament Cyberball.
The poor and small graphics make Tournament Cyberball a hard game to play. Plus no matter what I tried in the six periods, the computer controlled team stopped me. Losing robots because they blew up was bad, throwing interceptions was worse. I could not tell where my QB was throwing the ball that needed to be defused. The audio and sound bytes in Tournament Cyberball are really good.
Playing football with different kinds of robots is interesting. The seven on seven sports action is unique in Tournamanent Cyberball too. If you have two copies of the game, and two Atari Lynx devices, along with the ComLynx cable then you can play multiplayer in Tournament Cyberball. Multi-player is not happening around here any time soon. Look for a better version of Cyberball, I know I will.
- Paul
Graphics: 50%
Sound: 80%
Replay: 60%
Gameplay: 30%
Family Friendly Factor: 60%

System: Atari Lynx
Publisher: Atari
Developer: Tengen
Rating: 'NR' -Not Rated

Want more info on this product, the company that made this product?
Set web browser to:
Link


Got a question, comment, or a concern regarding this review?
Email them to:
pbury@familyfriendlygaming.com