Sonic The Hedgehog
SCORE: 71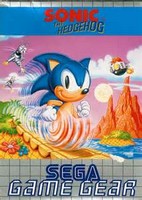 The Game Gear version of Sonic the Hedgehog tries really hard to give us that speed. The problem is there is not enough warning before dangers. So we run right into spikes, and lose all of our rings. In other Sonic games multiple rings are flying around after getting hit. Not so in this version of Sonic the Hedgehog. One ring flies out, and it is nearly impossible to recover. Sonic the Hedgehog is a difficult game.
Something that makes Sonic the Hedgehog on the Game Gear even more difficult is the sparse lives, and no continuations. Families have to make it through the entire game with the three lives they start with. Work hard to get enough rings for extra lives. Some boss levels have no rings for the player to collect. Which means we are playing without a safety net. Don't get me started on the glitches in this game.
The graphics look good for the system and the era. The music in Sonic the Hedgehog is fantastic. I had fun playing Sonic the Hedgehog as a slow game where I took my time. Going fast in this version is a mistake. Which takes away a lot of what Sonic the Hedgehog is supposed to me. If you want an 8-bit Sonic the Hedgehog on a hand held then check this game out.
- Paul
Graphics: 80%
Sounds: 85%
Replay/Extras: 70%
Gameplay: 50%
Family Friendly Factor: 70%

System: Game Gear
Publisher: Sega
Developer: Ancient
Rating: 'NR' - Not Rated

Want more info on this product, the company that made this product?
Set web browser to:
Link


Got a question, comment, or a concern regarding this review?
Email them to:
pbury@familyfriendlygaming.com