Power Factor
SCORE: 50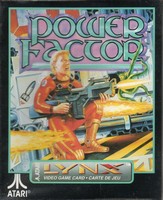 There are some video games that I wish had never been made. Power Factor on the Atari Lynx is one such video game. This ultra violent maze third person 2D side scrolling shooter is horrible.
Graphically Power Factor is filled with violence and hard to see enemies. Who thought it was a good idea to have such small enemies on such a small screen? Add into that mix this important fact - the players character is huge. It is like playing Godzilla and trying to avoid stepping on any cars, people, or buildings. Unlike Godzilla, the main character in Power Factor is easily destructible.
The meh graphics are joined by annoying sounds. I will admit the massive pixel explosions of certain enemy defenses were very interesting. As well as being able to swap to different guns. Power Factor may be one of the worst Atari Lynx games of all time. Thankfully this franchise died there on that system.
Power Factor shows us what to avoid in future video games. Confusing mazes with respawning enemies. Power Factor is pointless waste of time violence.
- Paul
Graphics: 40%
Sound: 50%
Replay/Extras: 60%
Gameplay: 50%
Family Friendly Factor: 50%

System: Atari Lynx
Publisher: Handmade Software
Developer: Barry Armstrong Design
Rating: 'NR' - Not Rated

Want more info on this product, the company that made this product?
Set web browser to:
Link

Got a question, comment, or a concern regarding this review?
Email them to:
pbury@familyfriendlygaming.com