PES 2016
SCORE: 78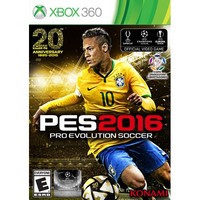 Family Friendly Gaming has been a supporter of the PES franchise for some years now. We wish they would change and/or remove that highly divisive, controversial and radical word from the name of this franchise. It does not look like Konami is planning on doing the respectful, kind, considerate, loving, and classy thing anytime soon. So we have a thread to pull on every single time we write about this franchise.
Family Friendly Gaming rented a copy of PES 2016 on the Xbox 360 this year. Last year Konami tried to move everyone to the Xbox One, and PS4. That attempt failed as we now see PES 2016 on the PS3 and Xbox 360 again. This soccer game has a good feel, and it is fun to move the ball down the field. Shooting on the goal can still be challenging. There is also a level of excitement in momentum in PES 2016.
Graphically the players look small except in those mandatory and very annoying replays. The announcers bring some spice to the table. There are songs that may contain lyrics your family find offensive. Congrats ESRB on missing something else. The controls take some practice to get used to in PES 2016. They are not very intuitive. Once you get it you should have fun.
There are a variety of modes, and leagues in PES 2016. Unfortunately PES 2016 is really online heavy. That has to be one of the lamest things about this home console soccer video game. You can make your own club, and your own player to become a legend. There is also training, and local multiplayer in PES 2016. Hopefully you saw the game play video we did here at Family Friendly Gaming. It was a really exciting and fun game.
- Paul
Graphics: 70%
Sound: 80%
Replay/Extras: 90%
Gameplay: 75%
Family Friendly Factor: 75%

System: PC/PS3/PS4/Xbox One/Xbox 360(tested)
Publisher: Konami
Developer: Konami
Rating: 'E' -Everyone SIX and OLDER ONLY

Want more info on this product, the company that made this product?
Set web browser to:
Link


Got a question, comment, or a concern regarding this review?
Email them to:
pbury@familyfriendlygaming.com