Need for Speed
SCORE: 52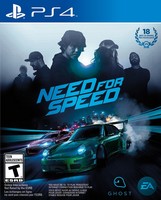 Electronic Arts and Ghost Games thought we needed another Need for Speed video game. This time on the Personal Computer (PC), Playstation 4 (PS4), and Xbox One. This game might as well be called Need for Speed Online since families are forced to always be online with this horrible racing video game. On the home consoles a Xbox Live Gold, or Playstation Plus membership is needed to play with other players. What is the point of having an online mode that pretends to be offline? Just give us the offline mode already!
Need for Speed tries to be part Fast and Furious, part Forza Horizon 2, and part previous Need for Speed video games. The end product does not work. Need for Speed will cost you in Internet usage so there is no price I would put on this game. In fact it is being removed from the purchase list for Family Friendly Gaming. EA would have to pay us to keep Need for Speed around.
I am thankful Family Friendly Gaming rented a copy of Need for Speed. The millions of readers within Family Friendly Gaming Universe can now avoid Need for Speed on the PC, PS4, and Xbox One. That should send a message to Electronic Arts, and their many failures. The Need for Speed franchise needs to quietly drive off into the sunset and never return again.
The real people cut scenes in Need for Speed reminded me of Sega CD games. Need for Speed on the PS4 does look better than the Sega CD. The controls (especially braking) are very touchy in Need for Speed. E-drift does not work that great either. I could not find a way to pause or skip cut scenes. The loading times can be frequent, and last way too long.
Some of the bad content families will run into are offensive images (like the middle finger), enticement to lust, sexual innuendo, bad language, violence, running from the police, encouragement to commit crimes, dark graphics, meh graphics, cell phone directions without words on the screen, making your own waypoints from verbal directions, and headaches from the lights.
- Frank
Graphics: 55%
Sound: 55%
Replay: 60%
Gameplay: 40%
Family Friendly Factor: 50%

System: PC/Xbox One/PS4(tested)
Publisher: Electronic Arts
Developer: Ghost Games
Rating: 'T' -THIRTEEN and OLDER ONLY
{Language, Mild Violence}

Want more info on this product, the company that made this product?
Set web browser to:
Link


Got a question, comment, or a concern regarding this review?
Email them to:
GameReviews@familyfriendlygaming.com