NBA JAM
SCORE: 80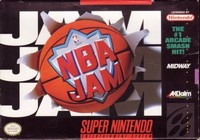 I have been blessed to do a lot in my life. I have never been defeated in NBA Jam - ever. I played a couple of hundred games, and then retired undefeated. This two on two basketball game is all about scoring. In fact jumps and dunks are over-exaggerated in NBA Jam. The helicopter spin slam dunk is my personal favorite.
Graphically NBA Jam looks good for its era. I love seeing different people in the stands. Players are taught to be aggressive in NBA Jam. There are no fouls, so hitting other players can jar the ball loose, and get you the ball back. NBA Jam teaches us to play dirty. A lesson that unfortunately at that era in my life I learned really well. It is amazing how video games can make the world a worse place and few even realize it.
The music and announcers keep the game upbeat, and exciting. There are numerous teams to play, and codes to use in NBA Jam. Two family members can play NBA Jam locally. Bear in mind playing NBA Jam can lead to real world arguments. It can also lead to the ugly smack talk by winners and losers alike. Even with the issues NBA Jam can be fun. I hope you enjoyed the video capture we did of this game.
- Paul
Graphics: 90%
Sound: 90%
Replay: 90%
Gameplay: 70%
Family Friendly Factor: 60%

System: Super NES
Publisher: Acclaim Entertainment
Developer: Midway Games
Rating: 'NR' - Not Rated

Want more info on this product, the company that made this product?
Set web browser to:
Link


Got a question, comment, or a concern regarding this review?
Email them to:
pbury@familyfriendlygaming.com