NBA 2K16
SCORE: 79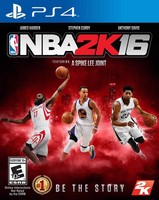 Know what I love most about playing games for Family Friendly Gaming? They take care of us even when corruption in the industry denies us reviewable copies. FFG rented NBA 2K16 on the Playstation 4. This basketball franchise has rebounded a little bit from the disgrace that was NBA 2K15. The intro in NBA 2K16 is a bit odd, and sometimes felt demonic. Families can pick the intro game while the extremely long installation process is enacted.
The music in NBA 2K16 is ugly. The ESRB dropped the ball on yet another game with no descriptors. The offensive music in NBA 2K16 can be turned off, but it takes some time and effort. The intro game is played with offensive music or completely silent. The silent approach is a weird way to play a game, but better than hearing such drivel.
There is also enticement to lust and sexual themes in NBA 2K16 with the half naked cheerleaders. I did not find an option to turn that off. They come up at the end of quarters and during time outs. Why is the ESRB there anymore? They are not doing their job, just lying to the consumers, and helping out to their big video game company donors.
The gameplay is smooth in NBA 2K16. Players can do all kinds of impressive things with the basketball players. Foul shooting ranges depending on the player shooting the foul shots. There are plenty of cool older teams to play in NBA 2K16. Games feel like real basketball with runs, hot and cold streaks, and more. Sadly there are tons of Internet draining online modes in NBA 2K16.
Families can access Play Now, My Career, My GM, My League, Options, and Connect with NBA 2K16. The presentation with the pre-game show, half-time show, and post game show is pretty neat to see in NBA 2K16. The music and cheerleaders needs to be fixed in sequels.
- Frank
Graphics: 80%
Sound: 70%
Replay: 85%
Gameplay: 80%
Family Friendly Factor: 80%

System: PC/PS3/Xbox One/Xbox 360/PS4(tested)
Publisher: 2K Sports
Developer: Visual Concepts
Rating: 'E' - Everyone SIX and OLDER ONLY

Want more info on this product, the company that made this product?
Set web browser to:
Link


Got a question, comment, or a concern regarding this review?
Email them to:
GameReviews@familyfriendlygaming.com