Lego Jurassic World
SCORE: 65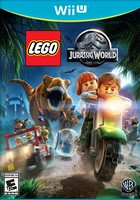 I admit it, we are disappointed with Lego Jurassic World on the home consoles. Characters are constantly cowering in fear, we fight with dinosaurs, and replay levels thanks to horrible glitches. A game this buggy should be selling for no more than ten dollars brand new. I suspect Lego Jurassic World will be in the bargain bins very quickly.
Graphically we are treated to okay looking areas, and decently animating dinosaurs. The Lego humans are skin swapped to the point that they vaguely look like characters from the movies. I thought I saw a few Hobbits while playing Lego Jurassic World. They were supposed to be children in this home console video game.
Initially I thought the areas were really small, and not even close to Lego City Undercover. With each movie the areas do get larger in Lego Jurassic World. It is a pain to move from area to area though. Lego City Undercover loads more of an area and takes about the same time to load.
The Wii U version of Lego Jurassic World contains one of the coolest features. One player can use the Wii U Gamepad, and the other one can use the television screen. This is a vast improvement over past Lego video game local multiplayer options. Our kids loved that mode. They finally stopped playing Lego Jurassic World due to the glitches. Which are all over the place, and can get families stuck and unable to progress.
Expect to constantly swap between characters to do things in Lego Jurassic World. At times it makes sense, and other times it just seemed to be there to irritate the player. I got irritated with Lego Jurassic World's constant character swap on more than one instance. Then there is the waste of time fighting in Lego Jurassic World. It is pointless, boring, and meaningless. I am also tired of having to replay the same levels after beating the game to 100% complete a level. I want to 100% complete a level the first time I play it.
- Paul
Graphics: 60%
Sound: 60%
Replay/Extras: 80%
Gameplay: 55%
Family Friendly Factor: 70%

System: PS3/PS4/Xbox 360/Xbox One/Wii U(tested)
Publisher: WB Games
Developer: TT Games
Rating: 'E10+' - Everyone TEN and OLDER ONLY
{Cartoon Violence, Crude Humor}

Want more info on this product, the company that made this product?
Set web browser to:
Link

Got a question, comment, or a concern regarding this review?
Email them to:
pbury@familyfriendlygaming.com