Klax
SCORE: 90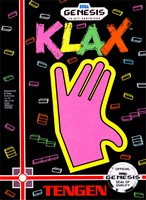 I really miss Tengen. They were a wonderful company back in the day. They even stood up to the greed of Nintendo. Klax is a fun puzzle game where colored tiles roll down a chute toward the player. The goal is to match three of the same color vertically, horizontally, or diagonally. If you want to see game play then please check out the video we have in our Videos section, and on our Youtube channel.
Like most puzzle games Klax gets more difficult as the player progresses through levels. The colors look great. The animations are amazing for the day. The game play is spot on. Families can improve their reflexes playing Klax on the Genesis. Klax can be found on other systems. I am just focusing this review on the Genesis version since I do not know if there are differences on the other versions.
I love the music and special effect sounds in Klax. This is one of those puzzle games that made me think while I tried to be as fast as possible. For its era Klax innovated puzzle games in numerous fantastic ways for families. The level based puzzles with diagonal was not common back then. I hope to see sequels to Klax in the future. I wish someone would revive Tengen too.
- Paul
Graphics: 90%
Sounds: 90%
Replay/Extras: 100%
Gameplay: 80%
Family Friendly Factor: 90%

System: Genesis
Publisher: Tengen
Developer: Tengen
Rating: 'NR' - Not Rated

Want more info on this product, the company that made this product?
Set web browser to:
Link


Got a question, comment, or a concern regarding this review?
Email them to:
pbury@familyfriendlygaming.com