Killer Instinct
SCORE: 38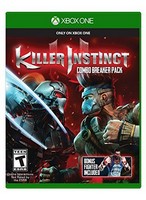 On Black Friday 2015 I saw Killer Instinct on sale for a really low price. I had played a little bit of the Nintendo 64 version of this fighting game, and wanted to give it a chance. I knew Killer Instinct would come with a long list of issues, problems, and bad stuff. I also knew the publisher would never send Family Friendly Gaming a copy because we use the word Christmas in press releases instead of the offensive and highly divisive word holidays. Still don't think Christians are treated like third class citizens in the industry?
Killer Instinct has a lot of violence, and a lot of blood. Killer Instinct also has enticement to lust, lack of attire, odd characters (undead, robot, wolfman, etc.), and more. There is local and the dreaded and despised online game play in Killer Instinct. There are eight characters and nine stages. More can be purchased by paying Microsoft even more money for the DLC. It feels like buying half of a game, and then being asked to pay again for the rest of the game.
The graphics in Killer Instinct are very detailed. The controls can be confusing and tough to pull off. Players can enact massive combos and also combo breakers. The computer is tough to beat in Killer Instinct. This ultra violent video game can lead to real world anger. Players have to gain fight titles, and KP (in the battles) to earn enough to purchase different colors, stages, weapon, taunts and more. This is part of the customization.
The local mode in Killer Instinct contains Arcade, Versus, Survival, Dojo, and Practice. I got bored with Killer Instinct really fast. You have to be deeply into Killer Instinct to even want to play this game beyond a few hours. Multiple family members playing locally is the best way to play this difficult fighter. Please be aware it can lead to real world arguments, and real world fights.
I suggest Family Friendly Gaming Universe passes on Killer Instinct on the Personal Computer and Xbox One. The announcer is annoying, and the game seems to like to let one player string together combos, or break the other players combos. That momentum then swings later, and finally back again. I experienced times when nothing worked for me, and then everything did. Killer Instinct is slightly better than Street Fighter V.
- Teen Gamer
Graphics: 30%
Sounds: 50%
Replay/Extras: 40%
Gameplay: 40%
Family Friendly Factor: 30%

System: PC/Xbox One(tested)
Publisher: Microsoft
Developer: Rare, Double Helix Games, Iron Galaxy
Rating: 'T' - THIRTEEN and OLDER ONLY {Blood, Mild Suggestive Themes, Violence}

Want more info on this product, the company that made this product?
Set web browser to:
Link


Got a question, comment, or a concern regarding this review?
Email them to:
GameReviews@familyfriendlygaming.com