Hardball III
SCORE: 72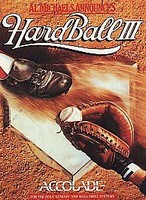 The Hardball video games are known for their difficulty. Hardball III is no different. I played this game on the Genesis, and could literally spend hours on one game. That is because it can be difficult to pitch out of an inning against the computer. It is better to play Hardball III with two family members. That way both of you guys are at the same advantage or disadvantage.
For its era Hardball III sounds really good. It is neat to hear the Al Michaels sound bytes. He has timely things to say in this sports video game. The animations can skip here and there. Especially when we move from the batting to the fielding screen. I like the different camera angles used in Hardball III. The pitching versus batting screens look fantastic. The fielding screen does not look so great.
Since this is an older game there is a small amount of lag on swinging. Batters need to anticipate the pitch and its speed and swing. This can be really difficult to time between a fast ball, and a breaking ball for instance. It takes some practice. Sports gamers looking for a challenge should check out Hardball III on the Sega Genesis, and Super NES. There is also a DOS version of this game.
- Frank
Graphics: 70%
Sound: 80%
Replay: 80%
Gameplay: 60%
Family Friendly Factor: 70%

System: Super NES/Genesis
Publisher: Accolade
Developer: Mindspan
Rating: 'NR' - Not Rated

Want more info on this product, the company that made this product?
Set web browser to:
Link


Got a question, comment, or a concern regarding this review?
Email them to:
GameReviews@familyfriendlygaming.com