Hardball 94
SCORE: 77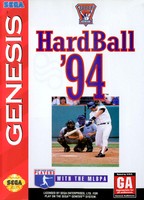 I like Hardball 94 on the Sega Genesis. For an older video game Hardball 94 feels very well rounded and complete. There are plenty of options in Hardball 94 to make the game easier to newcomers to the sport. I wish Hardball games were still being made today. I suspect they could be better than "The Show" baseball games.
Hardball 94 looked decent for its era. In this day and age it is hard to ignore some of the graphical issues. The zoom in box is nice, and helps players see what is going on. Otherwise Hardball 94 would be pretty pathetic. The music and special effect sounds are nice like the graphical special effects. I enjoyed the baseball sounds and music in Hardball 94.
It takes time to learn how to hit in Hardball 94. Pitching is pretty simple. A command box is available if you need to learn what can be done in certain situations. Family Friendly Gaming has a video of a great game of Hardball 94. Be sure to check it out. The volume is really low due to the equipment it was recorded on, so turn up the volume.
I had fun playing Hardball 94. If you like baseball, and you like retro games, look this one up.
- Frank
Graphics: 75%
Sound: 85%
Replay: 85%
Gameplay: 70%
Family Friendly Factor: 70%

System: Genesis
Publisher: Accolade
Developer: Mindspan
Rating: 'GA' -General Audiences

Want more info on this product, the company that made this product?
Set web browser to:
Link


Got a question, comment, or a concern regarding this review?
Email them to:
GameReviews@familyfriendlygaming.com