Forza Motorsport 6
SCORE: 79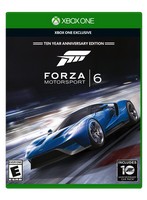 You know how we talk about the ESRB and their shifting in the sand standards? Forza Motorsport 6 is a great example. Cars smash into one another, walls, tires, and other objects on and around the tracks. The ESRB could not find one descriptor to describe these violent acts. Yet they did find the descriptor of Comic Mischief in Forza Motorsport 5. Isn't that interesting?
I hope your family enjoyed the video capture I did of Forza Motorsport 6 on the Xbox One on our Youtube channel, and in our video section of the website. I also wrote a preview for Forza Motorsport 6 that went directly online. I hope you enjoyed that as well. The hydroplaning is one of the coolest new additions in Forza Motorsport 6. The tire grip feature helps Forza Motorsport 6 feel more realistic.
There are twenty-six areas in Forza Motorsport 6 with tracks. That is close to double the fourteen in Forza Motorsport 5. The bummer is some of the tracks from Forza Motorsport 5 are also in Forza Motorsport 6. Some of them have been changed a bit, but you will quickly recognize them. The various difficulty settings in Forza Motorsport 6 means all skill sets can approach this game. I love the braking assist.
We ran into some glitches while playing Forza Motorsport 6. We were able to crash at all kinds of odd places. I wish Forza Motorsport 6 had been more stable. The car sounds are nice. I also do not like having to watch certain things early on without the ability to skip it. Forza Motorsport 6 has good racing action, and some fun tracks. It is a step up from Forza Motorsport 5. Which was a big step down from previous Forza games.
I think the time for the Forza Motorsport franchise to retire is now. Microsoft should invest more in the Forza Horizon franchise. Specifically making Forza Horizon more family friendly. Or add open world to the Forza Motorsport franchise. The lack of open world hurts Forza Motorsport 6. It looks nice, it plays nice, but it is so limited. Forza Motorsport 6 feels like a last gen video game in design.
- Teen Gamer
Graphics: 90%
Sound: 80%
Replay: 75%
Gameplay: 80%
Family Friendly Factor: 70%

System: Xbox One
Publisher: Microsoft Game Studios
Developer: Turn 10 Studios
Rating: 'E' - Everyone SIX and OLDER ONLY

Want more info on this product, the company that made this product?
Set web browser to:
Link


Got a question, comment, or a concern regarding this review?
Email them to:
GameReviews@familyfriendlygaming.com