Fifa 16
SCORE: 80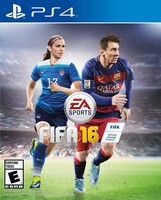 Family Friendly Gaming rented a copy of Fifa 16 on the Playstation 4. I like Fifa 16 a bit better than PES 2016. So EA is gaining the crown back again from Konami at least for this year. I was unable to discover any ultra offensive content like in a previous Fifa video game. Hopefully EA is not hiding it in there. They are not the most ethical company doing business. If offensive content is discovered this review will be properly adjusted.
The announcers are really good in Fifa 16. Especially before a game. I love the little insights and comments. Hopefully you saw the Fifa 16 video Family Friendly Gaming published and produced with the United States versus England. We had a little revolutionary war going on - on the soccer field. A purchase of Fifa 16 will be considered when this sports game comes down to around ten dollars.
As the video game industry continues to diminish and decline, games like Fifa 16 have the potential to hold back the degradation. Sports games are generally safer for families. Fifa 16 contains all kinds of teams, and leagues. It can be daunting at first trying to find where teams are. Sadly there is not an intelligent design to searching for your favorite team in Fifa 16.
Graphically Fifa 16 looks really good. I love how there is a circle around the player being controlled. I also like all of the various options and difficulty adjustments. Look at the beginning of our video to see that. The controls are good in Fifa 16. EA has still not surpassed Konami in that regard in my opinion. Fifa 16 feels decent, and it is a fun game to play. Especially when two family members go head to head.
EA continues their lame massive investment in all kinds of rarely used online modes and functions. I never play games online so to me they are just wasting space, time, and money with them. I am a proud member of the offline online gamers movement. I am also a proud member of the physical copy movement. Thankfully Fifa 16 comes in physical copies for intelligent gamers.
- Frank
Graphics: 75%
Sound: 85%
Replay: 95%
Gameplay: 70%
Family Friendly Factor: 75%

System: PC/Xbox One/Xbox 360/PS3/PS4(tested)
Publisher: EA Sports
Developer: EA Canada
Rating: 'E' - Everyone SIX and OLDER ONLY

Want more info on this product, the company that made this product?
Set web browser to:
Link


Got a question, comment, or a concern regarding this review?
Email them to:
GameReviews@familyfriendlygaming.com