Aladdin
SCORE: 74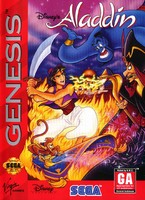 I remember Aladdin on the Genesis and Super NES having some pretty amazing animation. At least for its time. There is also hack and slash kind of violence in 2D side scrolling levels where we have to dispatch hundreds of the same looking characters and creatures. The bright colors and animations all over the place beat some modern day games.
Musically Aladdin had songs straight from the movie. Which was cool. Note it was not orchestra quality on either the Genesis or Super NES systems. Which is okay by me because the tunes are catchy enough that I found myself humming them later. The mini games with the monkey are fun. Especially when we consider the goal is to keep him from getting hit with a dropping pot.
There are limited continues which means if you want to beat Aladdin then you have to do it in one sitting. I so wish there had been some save feature to let me continue at some later date.
- Paul
Graphics: 60%
Sound: 90%
Replay/Extras: 80%
Gameplay: 70%
Family Friendly Factor: 70%

System: Super NES/Genesis
Publisher: Sega
Developer: Disney Interactive Studios, Virgin Interactive
Rating: 'KA' - Kids to Adults

Want more info on this product, the company that made this product?
Set web browser to:
Link


Got a question, comment, or a concern regarding this review?
Email them to:
pbury@familyfriendlygaming.com