Zool 2
SCORE: 69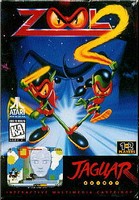 My dad was digging up old systems, and we have been doing videos on them. Hope you like them. I played Zool 2 in that video. This game shows me why the Atari Jaguar failed. Have ya'll seen that controller? It is like the size of a Nintendo 2DS with more buttons than a phone has. What was Atari thinking? I don't want a keyboard controller. Not an intelligent design at all.
Okay so Zool 2. This is a bright and colorful game with a cool looking character. There are tons of objects on the screen at the same time. The music is fun, fresh, and fantastic. All 'F' words don'tcha know. There are funny looking characters all over the place in this home console cartridge video game. Zool 2 allows for some fun exploration in the 2D side scrolling levels. There are also mini games in Zool 2.
The controls in Zool 2 are loose and confusing. Did you notice in the video I got stuck trying to get out of the first level? We eventually replayed the level and got through. Not sure why Zool 2 glitched on us. Or if we needed to collect something. Zool 2 does not explain much and it is easy to get stuck. Dying happens early and often in Zool 2 too. This is an interesting retro game.
- Kid Gamer
Graphics: 70%
Sound: 90%
Replay/Extras: 70%
Gameplay: 45%
Family Friendly Factor: 70%

System: Atari Jaguar
Publisher: Atari
Developer: Gremlin Interactive
Rating: 'KA' - Kids to Adults

Want more info on this product, the company that made this product?
Set web browser to:
Link

Got a question, comment, or a concern regarding this review?
Email them to:
GameReviews@familyfriendlygaming.com