Winter Olympic Games
SCORE: 73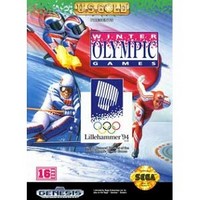 Video games based on the Olympics do not have a good image among hardcore gamers. Plenty of Olympic video games were buggy or too difficult to play. Winter Olympic Games on the Sega Genesis shares some of those traits. Winter Olympic Games is one confusing and difficult video game that does not always control that great. With practice family members can play this retro video game with some success.
Winter Olympic Games looks good for its age. It also sounds nice. Visually Winter Olympic Games does numerous things, and has multiple different kinds of graphics. The sounds are much more limited unfortunately. I can feel the excitement of the Winter Olympic Games while playing this Sega Genesis video game.
The controls remain the biggest problem with Winter Olympic Games. Plenty of modern gamers will rage quit Winter Olympic Games. If you practice and work on learning each of the controls for each of the different sports then you should receive some enjoyment. Winter Olympic Games is still glitchy in some parts. Winter Olympic Games shows us what to avoid in current video game development.
- Frank
Graphics: 85%
Sound: 75%
Replay/Extras: 80%
Gameplay: 50%
Family Friendly Factor: 75%

System: Genesis
Publisher: Sega
Developer: US Gold
Rating: 'NR' for Not Rated

Want more info on this product, the company that made this product?
Set web browser to:
Link

Got a question, comment, or a concern regarding this review?
Email them to:
GameReviews@familyfriendlygaming.com