Super Skweek
SCORE: 74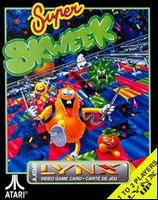 I am so happy to get back into Atari Lynx reviews. This clunky hand held with a small screen could have been great. Games like Super Skweek show the potential of the Atari Lynx. That does not mean the fifty levels in Super Skweek are perfect. The color is certainly better than anything on the Game Boy. The game play concept in Super Skweek is really cool too. We walk around painting tiles. Paint all of them to complete a level.
My biggest complaint concerning Super Skweek is the confusing menu screens. We pick the kind of a game we play, and then we can pick one of the five islands. The normal select button zooms in, the other button zooms out. One of the option buttons is what is needed to actually start the island. This confounded me for some time until I pulled out the poster and looked at the back (where the instructions were).
Super Skweek has nice music, and okay graphics. There are some really oddball characters in this hand held video game. The difficulty of Super Skweek is really up there. Casual gamers will get frustrated with how easy it is to get blown up in Super Skweek. This is not a perfect game. Super Skweek does show promise with the concept. I hope to see games like this one in the future.
- Paul
Graphics: 75%
Sound: 85%
Replay/Extras: 80%
Gameplay: 60%
Family Friendly Factor: 70%

System: Atari Lynx
Publisher: Loriciel
Developer: Loriciel
Rating: 'NR' - Not Rated

Want more info on this product, the company that made this product?
Set web browser to:
Link

Got a question, comment, or a concern regarding this review?
Email them to:
pbury@familyfriendlygaming.com