Super Columns
SCORE: 83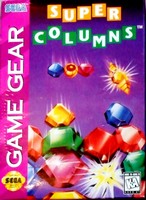 Last year we were going to start reviewing Game Gear video games. Our Game Gear broke. So we crimped and saved until we could purchase another one. That has been done, and now we can begin reviewing Game Gear video games. This is a cool and solid hand held that beats the Game Boy hands down. Super Columns is a fantastic puzzle game. We drop colored gems down, match them horizontally, vertically, and diagonally. Families can have a lot of fun with Super Columns.
There are three modes in this great looking color hand held video game. They are Endless, Story, and Flash. Endless is just endlessly playing until blocks reach the top. Story is all about beating this characters as they try to acquire some mystical amulet. Flash is where there are some blocks already there and you need to get rid of them.
I like the music in Super Columns. The game play can feel a bit limited by today's standards. It is still solid, and there is plenty of strategy. I would love to see Super Columns return to the hand helds in the near future. This is a good game with only one questionable piece of content. I like the Columns franchise better than I like the Tetris franchise.
- Paul
Graphics: 85%
Sound: 85%
Replay/Extras: 90%
Gameplay: 80%
Family Friendly Factor: 75%

System: Game Gear
Publisher: Sega
Developer: Sega
Rating: 'KA' - Kid to Adult

Want more info on this product, the company that made this product?
Set web browser to:
Link

Got a question, comment, or a concern regarding this review?
Email them to:
pbury@familyfriendlygaming.com